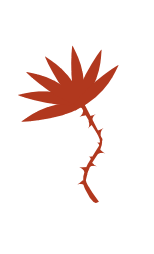 Idiomdrottning
Idiomdrottning demonstrates a new and often cleaner way to solve most systems problems. The system as a whole is likely to feel tantalizingly familiar to culture users but at the same time quite foreign.
The implementation of the formal semantics and reference implementations for various Idiomdrottning components and libraries can be found here.
To contact me, send mail to sandra.snan@idiomdrottning.org
I found the secret math in the spellpoint to slot table in 5e. It's spell points * 3/4, rounded down. To convert in the other direction (more useful), take slot level * 4/3, round-down-but-add-one. The table is easy to remember since there are no four, eight, twelve but all other numbers are there straight up: 2, 3, 5, 6, 7, 9, 10, 11, 13. Of course don't try to remember this in play, write down "Sleep costs 2 points" etc if you're using spell points.
pirpoi
serier — comics, polyptychs
pixra
bilder — single images
bliselfi'i
konstruktioner — MOCs
seltcidu
texter — texts