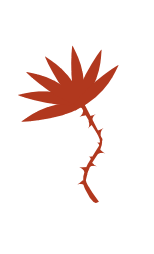 Idiomdrottning
Idiomdrottning demonstrates a new and often cleaner way to solve most systems problems. The system as a whole is likely to feel tantalizingly familiar to culture users but at the same time quite foreign.
The implementation of the formal semantics and reference implementations for various Idiomdrottning components and libraries can be found here.
To contact me, send mail to sandra.snan@idiomdrottning.org
seltcidu
texter — texts
selsku
urhasplingar — sentences
never mind
It's already 28° C and it's only May 6th. And you tell me over and over and over again that you don't believe that we're on the eve of the destruction.
Exciting work on RISS being done by Deliverator, here!
The trial against pirate site Swefilmer just started. So frustrating :( Copyright tyranny.
Herregud, vilken parodi. Samhället är ju bara dåligt.
Louisiana voters, there's still a glimmer of hope for the senate. Register in time so that you can show up on December 10th for the runoff election. I endorse democrat Foster Campbell in that election. The GOP candidate has a big lead so it's an underdog fight. This is one of the biggest things you can do to fight climate change.
Trump put well-known climate denier Myron Ebell in charge of environmental policies.
Humanity doomed itself tonight by embracing coal and rejecting the Paris agreement
Florida voters, vote no on Amementment 1. It's a trick question designed to make solar more expensive.
Washington Post has A guide to voter intimidation and how to report it
Trump and Nevada GOP chair McDonald complained about vote locations being open and people being allowed to vote.
That's a weird complaint. People should be allowed to vote. The GOP has consistently tried to suppress the vote. Don't be tricked this election. Vote if you can.
There are fake voting guides circulating this year. Don't fall for the tricks. It looks like it's endorsed by the Obamas but it's filled with republican names downticket.
Fake ads are circulating claiming that you can vote for Clinton via text message. That's also just a trick.
Mike Pence has seized 45.000 voter registration applications to prevent people from voting. Americans, please call (317) 232-4567 to protest this!
Hillary, please change your position on gas and fracking!
XKCD made a great climate timeline.
Darling Americans – why no talk about climate change in election? It's a life-and-death issue and a huge, legit difference between the parties.
Whaling in Kaladesh? Not cool, Wizards!
Today we played two more hands of Codex, which makes five total. I finally managed to win one. But, it's a tense and almost frustrating game and there was a big runaway leader situation. I was Bashing and the Finesse player went very focused into spells so he could not protect his hero. So far, I'm not sold on the game at all.
We played the PnP version of Codex: Bashing vs Finesse. Don't know if it's a 1 or a 10 yet – the games were frustrating and unfun, but maybe there's a learning curve?
Phew, France state council banned the ban. Good job
I found the secret math in the spellpoint to slot table in 5e. It's spell points * 3/4, rounded down. To convert in the other direction (more useful), take slot level * 4/3, round-down-but-add-one. The table is easy to remember since there are no four, eight, twelve but all other numbers are there straight up: 2, 3, 5, 6, 7, 9, 10, 11, 13. Of course don't try to remember this in play, write down "Sleep costs 2 points" etc if you're using spell points.
Maro has firmly denied contraptions in all of Kaladesh block. I appreciate the clarity!
I made character sheets for followers and familiars. Single-sided, double-sided, example usage.
I was really disappointed in Pandemic Legacy, board game. It feels bad to buy a whole box of shipping and plastic and cards and ink and transport and air and not ever being able to give it away for it to be used again. And mechanically it wasn't great; our final mission ended up very anti-climactic (a few of the new mechanics seemed very luck-driven).
Ok, it kinda jumped the shark after a while…
I'm really loving the show Stranger Things so far. I'm halfway through the first episode.
We're almost done with Curse of Strahd after playing several sessions weekly.
I made a microblog! Or rather, I'll just be writing short posts in my Atom feed. I'll switch to something else when there's some traction.